integral
Food lovers can unanimously agree that food is art, and eating is like a performance piece, for yourself. Art Basel brings the best the art world has to offer, and if you look closely, the culinary world makes quite the statement, too. We've rounded up the best events to get your grub on and get your mind off of the traffic jam that is Art Basel. Eat responsibly.
5-Day Tasting Menu Experience at Alter
Eater Miami's Restaurant of the Year will transform into an artful tasting-menu-only experience for a week of poetic dinners, featuring new dishes created by chef Brad Kilgore for the occasion. From December 1-5, Alter will offer two seatings per night (7 and 9:30 p.m.) of the five-course tasting menu, with the option to upgrade to seven courses, at $80 per person.
Advanced ticket purchases from Table8 are required.
Address: 223 NW 23 St. Miami, FL 33127
"Taste What's Next" With Chef Fredrik Berselius

On Thursday December 3 at the MAPS backlot, Bon Appétit and Volvo invite guests to preview chef Fredrik Berselius' menu for his long-awaited restaurant due early 2016, experience a digital age masterpiece by Chris Doyle and interact with Volvo's new XC90 model in a special demonstration. Event starts at 4:30 pm.
Address: 342 NW 24th Street, Miami
Spencer Finch's Ice Cream Truck Makes its Miami Debut
Spencer Finch, the artist most famously known for his September 11 installation will be serving up free "edible monochromes," i.e. soft serve inspired by the hues of the sky. His solar powered truck will be parked next to the Hyde Midtown Suites & Residences sales center on Tuesday December 1 from 5 to 10 p.m. and Wednesday through Saturday, December 2-5, from 1 -8 p.m.
Address: 3401 NE 1st Ave.
EMORY Vodka Launches Guerilla Marketing Campaign
Taking advantage of the art world's most prestigious week, EMORY Vodka will be strategically poured throughout Miami's most buzzworthy venues following Blake Emory's successful 2014 Basel debut of Zebra Love. For the whole week, the 100 percent corn-based gluten free vodka will be served at the Metropolitan by COMO, KLIMA Restaurant & Bar and for the grand opening of "K Club," Klima's club and lounge.
Mace Cocktail Bar Pop Up at Alter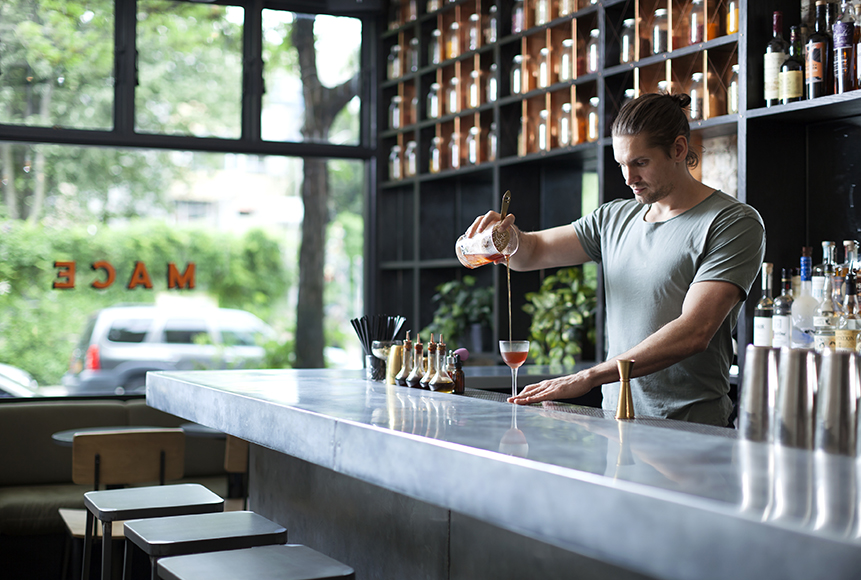 In light of its soon-to-open terrace bar, Alter is inviting Mace's head bartender Nico de Soto for a pop up of one of New York's most progressive cocktail bars, where libations feature influences from de Soto's travels to Southeast Asia, India and Indonesia. Mace will be bringing its travel inspired cocktails to Alter for the duration of Art Basel week.
Address: 223 NW 23 St. Miami, FL 33127
Massive Wynwood Block Party
The Bushwick Collective, Brooklyn's nonprofit street gallery, is teaming up with Mana Wynwood, Mana Contemporary and Basel House to host a free four-day block party in the former RC Cola Plant. The space will be transformed by some of the world's top street artists in addition to live painting, an appearance by Fat Joe, the Heineken Mobile Art Experience and, of course, food trucks, lots of them. The party runs from Thursday thru Saturday from 12 pm-2 am and Sunday from 12 pm-9 pm.
Address: 594 NW 23rd Street, Miami, FL 33127 (Mana Urban Arts Project)
Drunken Dragon Collaborates With NYC's Sweet Chick
There's only one time and place where you can experience American comfort food and authentic Asian cuisine under one roof, and it's during Miami Art Week at Drunken Dragon; think lobster rolls, spicy Dok Boki, simmering Bulgogi and more. D.D. will also debut new additions to its cocktail menu with three takes on the Old Fashioned including Barrel-Aged Rum, Barrel-Aged Hiro Sake and Tequila. The gastropub's popular table-side grilling menu will still be available all week.
Address: 1424 Alton Road Miami Beach, FL
24/7 Caviar Delivery
Finally, instant caviar at your leisure. For the entire week of Basel, the California harvested caviar ROE will be available for 24/7 delivery. To order, send a text to ROEBASEL (77948) and a specialist will respond immediately and deliver your order within the hour. Of course, you have to choose between 125 gm ($275) and 250gm ($550), and that's the only hard part.
Complementary Cups of Lavazza Coffee
Italy's favorite coffee will debut its first ever sampling truck with free cups of warm and cold coffee in the light of Art Basel. Check the schedule below for when and where you can get your complementary coffee fix.
Thursday, December 3rd
1:00PM-7:00PM: The National Hotel – 1677 Collins Avenue
Friday, December 4th
7:00AM-10:00AM: Miami Downtown Business District (E. Flagler Street)
11:00AM-2:00PM: Biscayne Boulevard (200s-600s)
Saturday, December 5th
10:00AM-1:00PM: Wynwood Art District (near Wynwood Walls)
2:00PM-5:00PM: Wynwood Art District (near Art Miami Pavilion) – 2901 N.E 1st Street
Sunday, December 6th
10:00AM-5:00PM: Shops at Midtown
Michelle Bernstein Pop-Ups at the Botanical Gardens
The city's very own chef Michy Bernstein is bringing back her two Art Basel concepts for the third year in a row. From November 30 to December 3, The Garden Café by Michelle Bernstein and Michy's Pop Up will make appearances at the Miami Beach Botanical Gardens across the street from the Miami Beach Convention Center. For reservations and menus, visit michyspopup.com.
Address: 2000 Convention Center Drive
The Salty Donut Pop-Up Truck
The highly anticipated donut shop will be responding to high demands with a food truck this weekend parked near its future location. Along with Chicago's Intelligentsia coffee, the donut cart will be serving its signature flavors Thursday and Friday from 6 to 11 p.m. and Saturday and Sunday from 10 a.m. to 5 p.m. every weekend until the grand opening (estimated–early 2016).
Address: 29 NW 24th ST
Creative Edge Parties Launches in South Florida
One of New York's most prominent catering and events company, Creative Edge, is debuting in Miami with the launch of The Egg, a pop-up café, and a Coupe Lounge, both in Design Miami/. From December 2-6, the pop-ups will feature chef Flynn McGarry, a 17-year-old former apprentice of Alinea and current chef and owner of EUREKA, and his daily specials, including avocado toast, slow roasted carrot and little gem lettuce.
Address: Meridian Avenue & 19th Street
LOBA Partners With Miami AD School Students
You should notice a theme by now, that food and art go hand in hand. Loba, the vibrant MiMo gastropub, is giving Miami Ad School students a place to showcase their work during Art Week. The art theme will be synonymous with Loba: strength, sharpness and an appetite for freedom. Click here for menus and reservations.
Address: 7420 Biscayne Blvd
Swig n' Swine Fundraising Party
The Bon Vivants are bringing back their Swig n' Swine fundraiser for Miami's Overtown Youth. The Broken Shaker will host the party on its second annual year on Sunday December 6 from 3 to 8 p.m. Booze will be provided by several of the event's sponsors all afternoon, and several chefs are taking a hand at the menu, including Michael Pirolo from Macchialina and Bazi, Jimmy Lebron from 27 Restaurant and Halid Quiroz from Sweet Liberty Drinks & Supply Co. Tickets are available online for $30 and at the door for $40. For tickets, click here.
Address: 2727 Indian Creek Drive
Cafecito Integral Pop-Up Feat. Vicky's Bakery
You can never have too much coffee during Art Basel. Freehand Chicago's Café Integral, a Nicaraguan coffee bar, will be popping up at The Freehand with a special menu highlighting Cuban classics like coladas and originals like the "Spanish Latte," a coffee libation made with spices and condensed milk. Pastelitos from Vicky's will also make a special appearance.
Address: 2727 Indian Creek Drive
Pineapple Assembly at The Deauville Beach Resort
The group behind the Pineapple Assembly proclaiming that "event food sucks!" (their words not ours) and are looking to change that. The group has assembled a few of their favorite vendors including the Bar Lab guys who will be serving cocktails, NYC-based Black Tree and BIG MOZZ, Stand Coffee, Brooklyn's Cafe Grumpy, Junior's Roasted Coffee, JoJo Tea and freshly-cracked coconuts courtesy of CoCo&Co, to create create food for events. The party runs December 1 to 6.
Address: 6701 Collins Ave.
Dean + Deluca Presents CHEESE at Design Miami
Love cheese? Than boy do we have the art exhibit for you. Called CHEESE it "transports guests" to 1973, when Giorgio DeLuca opened his first space on Prince Street in SoHo called The Cheese Store and the designers created a "surrealist" take on a Dean & DeLuca store. On display inside Design Miami until December 6.
Address: Meridian Avenue & 19th Street